Tower of Ancient Progenitors
[
]
The Tower of Ancient Progenitors is a high-difficulty survival dungeon that opens for limited intervals. You can arrange a large team of all Awakened Characters and continue exploring until all characters have fallen, or until you reach the 60th floor. Each floor has one battle, and as you clear fixed reward floors (every ten floors) you can gain Awakening Skills and other prizes.
Monsters and rewards vary each time the tower opens.
Participation Conditions

[

]
To play the Tower of Ancient Progenitors you must:
Clear Arc 1 Chapter 5.
Have at least one Awakened Character.

Characters are Awakened automatically by obtaining any of their Mirrages other than their Reward Mirrage. They can also be Awakened manually by using five Awakening Drops on them.
It also must be during the Tower's open interval.
The Tower does not consume AP and there is no limit to the number of times you can enter. As long as you meet the above conditions, you can challenge it.
Team Formation

[

]
Only Awakened Characters can be added to the team. However, there are no restrictions on the number of characters that can be selected. The first four characters in the chosen formation will fight first. The remaining characters are treated as reserves.
Game Over

[

]
When a character is KO'd in battle, the next character from the reserves will replace them. If all members are KO'd it is a game over. Unlike regular quests, there is no "Retry" option. The battle formation and KO lists for the Tower do not affect other quests.
Reward Floors

[

]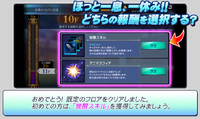 By clearing floors at set intervals (every 10) you will earn rewards. To see the details for rewards, check the "Reward Details" button on the main screen of the Tower of Ancient Progenitors.
First Time Clear Rewards: These rewards can be earned only once when clearing the corresponding floor. A receipt is recorded for each Tower interval, and rewards can be earned again the next time the tower opens. If a reward cannot be collected due to a full inventory, rewards will be delivered to the Gift Box.
Anima Spheres and Awakening Skills: You can choose to gain either an Anima Sphere or Awakening Skills at each reward floor. Unlike the first clear rewards, these can be earned an unlimited number of times each time you clear the corresponding floor.
Leaving Temporarily

[

]
After clearing a reward floor you can choose to temporarily leave the Tower. After leaving you can play other quests, strengthen characters, or perform any other gameplay features. To return to the Tower choose "Tower of Ancient Progenitors" from the quest selection screen. Strengthening characters or changes made to character equipment are present in the Tower after resuming.
Special Rules

[

]
The Tower differs from ordinary quests in some ways:
Actions in the Tower do not count towards mission completion.
Mirrage Gauge accumulation is different from regular quests. For characters with 0 Anima Spheres in particular, building the Mirrage Gauge is very difficult.
When a party member is KO'd, the member that takes over will inherit their Mirrage Gauge.
Mirrage Ratio is carried over to the next floor. However, it is reset after clearing a reward floor.
Ix(/Kocis) Overray cannot be used in the Tower.
There is no Retry option on Game Over.
Passports do not apply to rewards gained in the Tower.
Anima Sync does not apply in the Tower. However, the number of Anima Spheres held creates a similar effect.
When all party members are KO'd, the next party resumes battle with the enemy HP as it was.
When Anima Spheres reach 0 a character's HP is greatly reduced.
Anima Sphere
[
]
Anima Spheres are Character Enhancement Items that exist only in the Tower of Ancient Progenitors. A character's ability in battle is strengthened according to the number they possess. For each floor your clear in the Tower (or each hit you take in the All-Out Battle Tower), characters lose Anima Spheres. When Tower exploring ends (Game Over or Complete) all Anima Spheres are reset, and do not carry over to the next time.
Anima Sphere Sync

[

]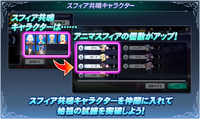 Sphere Sync characters have more Anima Spheres for battle. Sync characters change each time the Tower opens, and more may be added during the open interval. Current Sphere Sync characters are listed on the main screen for the Tower.

Anima Sphere Count

[

]
Here is how much Anima Spheres you gain by reaching and equipping Mirrage Weapons and Mirrages.
| Limit Break Bonus | | | | | |
| --- | --- | --- | --- | --- | --- |
| Mirrage Weapon | +1 | +2 | +3 | +4 | +5 |
| Mirrage | +2 | +3 | +4 | +5 | +6 |
---
Here is how the amount of Anima Spheres you have affect your stats in the standard Tower.
| Anima Sphere Bonus | 0 | 1 | 2 | 3 | 4 | 5+ |
| --- | --- | --- | --- | --- | --- | --- |
| Sphere Effect | +0% | +40% | +80% | +120% | +160% | +200% |
※ When Anima Spheres drop to 0, The character's max HP will drop to 25% of its original value.
Additional Information
Base Anima Sphere

All characters start off with 2 Anima Spheres.

Sphere Sync

Sphere Sync adds 2 Anima Spheres.

Reward Mirrage Sphere Count

Reward Mirrages will not give you Anima Spheres.
Awakening Skills
[
]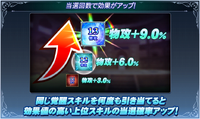 Gaining Awakening Skills

[

]
You can select one character of all those brought to the Tower to learn Awakening Skills. All three skills are drawn at the same time. After seeing them, you can choose whether to take all three or keep the previous skill set. Awakening Skills apply not just in the Tower, but in Story and Event Quests as well. To see the skills a character has, go to the Character Status screen and select the Awakening Skills tab. When acquiring multiple Awakening Skills with the same effect, the effect is summed.
There are Awakening Skills with an upper limit on the summed effect value. This is displayed in the Maximum Value column.
Some Awakening Skills (Backstep Distance, Backstep Iron Stance Break, Backstep Evasion, and Backstep HP Recovery) cannot be drawn as duplicates.
Higher tier skills appear with higher probability as you draw lower tier skills. This effect is calculated across all Towers, and will be carried over the next time the Tower opens.
Awakening Skills List
Name
Tier 1
Tier 2
Tier 3
Description
Physical Attack
物攻
(+3%)
(+6%)
(+9%)
First Appearance: 10th Floor
Maximum Value: 27%
Description: Increase Physical Attack.
Physical Defense
物防
(+3%)
(+6%)
(+9%)
First Appearance: 10th Floor
Maximum Value: 27%
Description: Increase Physical Defense.
Arte Attack
術攻
(+3%)
(+6%)
(+9%)
First Appearance: 10th Floor
Maximum Value: 27%
Description: Increase Arte Attack.
Arte Defense
術防
(+3%)
(+6%)
(+9%)
First Appearance: 10th Floor
Maximum Value: 27%
Description: Increase Arte Defense.
Stun Resistance
気絶防止
(+20%)
(+40%)
(+60%)
First Appearance: 10th Floor
Maximum Value: 100%
Description: Increases the chance that you will withstand the Stun Ailment.
Slow Resistance
鈍足防止
(+25%)
(+50%)
(+75%)
First Appearance: 10th Floor
Maximum Value: 100%
Description: Increases the chance that you will withstand the Slow Ailment.
Poison Resistance
毒防止
(+25%)
(+50%)
(+75%)
First Appearance: 10th Floor
Maximum Value: 100%
Description: Increases the chance that you will withstand the Poison Ailment.
Fatigue Resistance
疲労防止
(+25%)
(+50%)
(+75%)
First Appearance: 10th Floor
Maximum Value: 100%
Description: Increases the chance that you will withstand the Fatigue Ailment.
Weakness Resistance
衰弱防止
(+25%)
(+50%)
(+75%)
First Appearance: 10th Floor
Maximum Value: 100%
Description: Increases the chance that you will withstand the Weakness Ailment.
Paralysis Resistance
マヒ防止
(+25%)
(+50%)
(+75%)
First Appearance: 10th Floor
Maximum Value: 100%
Description: Increases the chance that you will withstand the Paralysis Ailment.
Terror Resistance
恐怖防止
(+25%)
(+50%)
(+75%)
First Appearance: 10th Floor
Maximum Value: 100%
Description: Increases the chance that you will withstand the Terror Ailment.
Backstep Distance
バックステップ距離
(+15%)
(+30%)
(+45%)
First Appearance: 20th Floor
Maximum Value: 45%
Description: Increases the distance of your Backstep.
Backstep Counterattack
バックステップ直後の攻撃で敵鋼体
(-1)
(-2)
(-3)
First Appearance: 20th Floor
Maximum Value: -3
Description: In attack immediately following Backstep, reduce enemies Iron Stance.
Backstep Evasion Time
バックステップ回避時間
(+0.1 sec)
(+0.2 sec)
(+0.3 sec)
First Appearance: 20th Floor
Maximum Value: +0.3 sec
Description: Increases evasion time during Backstep.
Backstep HP Recovery
バックステップ回避時
(200 HP)
(400 HP)
(600 HP)
First Appearance: 20th Floor
Maximum Value: 600 HP
Description: Recover HP after a Backstep in which you were hit and dodged in time.
Mirrage Gauge at Battle Start
戦闘開始時MG
(+5 MG)
(+10 MG)
(+15 MG)
First Appearance: 30th Floor
Maximum Value: +45 MG
Description: Mirrage Gauge increases at the start of battle.
Reduce Cast Time on 1st Arte
詠唱術の初回詠唱時間軽減
(20%)
(40%)
(60%)
First Appearance: 30th Floor
Maximum Value: 90%
Description: Reduce cast time for the first spell.
HP Recovery at Battle Start
戦闘開始時HP回復
(4%)
(8%)
(12%)
First Appearance: 30th Floor
Maximum Value: 36%
Description: Recover HP at the start of battle.
Beast-Type Damage Reduction
『獣』系からのダメージ減
(+8%)
(+16%)
(+24%)
First Appearance: 40th Floor
Maximum Value: 72%
Description: Damage from Beast-Type monsters is reduced.
Aquatic-Type Damage Reduction
『水棲』系からのダメージ減
(+8%)
(+16%)
(+24%)
First Appearance: 40th Floor
Maximum Value: 72%
Description: Damage from Aquatic-Type monsters is reduced.
Plant-Type Damage Reduction
『植物』系からのダメージ減
(+8%)
(+16%)
(+24%)
First Appearance: 40th Floor
Maximum Value: 72%
Description: Damage from Plant-Type monsters is reduced.
Undead-Type Damage Reduction
『不死者』系からのダメージ減
(+8%)
(+16%)
(+24%)
First Appearance: 40th Floor
Maximum Value: 72%
Description: Damage from Undead-Type monsters is reduced.
Crustacean-Type Damage Reduction
『甲殻』系からのダメージ減
(+8%)
(+16%)
(+24%)
First Appearance: 40th Floor
Maximum Value: 72%
Description: Damage from Crustacean-Type monsters is reduced.
Winged-Type Damage Reduction
『有翼』系からのダメージ減
(+8%)
(+16%)
(+24%)
First Appearance: 40th Floor
Maximum Value: 72%
Description: Damage from Winged-Type monsters is reduced.
Golem-Type Damage Reduction
『ゴーレム』系からのダメージ減
(+8%)
(+16%)
(+24%)
First Appearance: 40th Floor
Maximum Value: 72%
Description: Damage from Golem-Type monsters is reduced.
Guard Damage Reduction
防御時のダメージ軽減
(+8%)
(+16%)
(+24%)
First Appearance: 50th Floor
Maximum Value: 24%
Description: Reduction damage taken while Guarding.
Maximum HP
最大HP
(+8%)
(+16%)
(+24%)
First Appearance: 50th Floor
Maximum Value: 72%
Description: Raise your maximum HP.
Stagger Time Reduction
のけぞり時間軽減
(5%)
(10%)
(15%)
First Appearance: 50th Floor
Maximum Value: 45%
Description: Reduce duration of Stagger when hit.
Movement Speed in Battle
戦闘中の移動速度
(+10%)
(+20%)
(+30%)
First Appearance: 50th Floor
Maximum Value: 30%
Description: Increase Movement Speed in battle.
Earth Element Arte Weakness Bonus
地属性術技弱点ボポーナス上昇
(10%)
(20%)
(30%)
First Appearance: 55th Floor
Maximum Value: 90%
Description: Deal additional Earth Element damage to enemies with a weakness to it.
Water Element Arte Weakness Bonus
水属性術技弱点ボポーナス上昇
(10%)
(20%)
(30%)
First Appearance: 55th Floor
Maximum Value: 90%
Description: Deal additional Water Element damage to enemies with a weakness to it.
Fire Element Arte Weakness Bonus
火属性術技弱点ボポーナス上昇
(10%)
(20%)
(30%)
First Appearance: 55th Floor
Maximum Value: 90%
Description: Deal additional Fire Element damage to enemies with a weakness to it.
Wind Element Arte Weakness Bonus
風属性術技弱点ボポーナス上昇
(10%)
(20%)
(30%)
First Appearance: 55th Floor
Maximum Value: 90%
Description: Deal additional Wind Element damage to enemies with a weakness to it.
Light Element Arte Weakness Bonus
光属性術技弱点ボポーナス上昇
(10%)
(20%)
(30%)
First Appearance: 55th Floor
Maximum Value: 90%
Description: Deal additional Light Element damage to enemies with a weakness to it.
Dark Element Arte Weakness Bonus
闇属性術技弱点ボポーナス上昇
(10%)
(20%)
(30%)
First Appearance: 55th Floor
Maximum Value: 90%
Description: Deal additional Dark Element damage to enemies with a weakness to it.
Mirrage Ratio at Mirrage Arte Activation
魔鏡技発動時ミラージュレシオ
(+5%)
(+10%)
(+15%)
First Appearance: 55th Floor
Maximum Value: 45%
Description: Mirrage Ratio percentage increases with Mirrage Arte activation.
Physical Attack & Defense
物攻・物防
(+5%)
(+10%)
(+15%)
First Appearance: 55th Floor
Maximum Value: 45%
Description: Increase Physical Attack and Physical Defense.
Arte Attack & Defense
術攻・術防
(+5%)
(+10%)
(+15%)
First Appearance: 55th Floor
Maximum Value: 45%
Description: Increase Arte Attack and Arte Defense.

UI Guide

[

]

All-Out Battle Tower

[

]

The All-Out Battle Tower is an endgame survival dungeon that opens for limited intervals. Like the standard tower, only Awakened Characters can be used, and you can continue exploring until all characters have fallen, or until you reach the final floor. Each floor has one battle, and each battle rewards a set amount of Books of Eternity based on the time take to complete that battle.

Monsters and rewards vary each time the tower opens.

Participation Conditions

[

]

To play the All-Out Battle Tower you must:

Clear Arc 1 Chapter 1.
Have at least one Awakened Character.

It also must be during the Tower's open interval.

The Tower does not consume AP, but there is a 10 attempt limit to the number of times you can enter.

Climbing the Tower

[

]

Only Awakened Characters can be added to the team. The first four characters participate in the first battle, and each battle after that uses the next four characters. The tower has as many floors as there are potential teams of 4. If a team is KO'd, the next four characters are used as reserves to replace them, so losing a whole team will limit your potential progress.

Rewards

[

]

By clearing each floor, you will earn Books of Eternity. These can be redeemed for 3★ Gear Limit Breakers, various tickets, Spirit Fragments, Mirrage Gears, Skip Tickets, and Awakening Drops.

Special Rules

[

]

The Tower differs from ordinary quests in some ways:

Actions in the Tower do not count towards mission completion.
Teams inherit the Mirrage Gauge of the team before them.
Mirrage Ratio is carried over to the next floor. However, it is reset every 5 floors.
Ix(/Kocis) Overray cannot be used in the Tower.
There is no Retry option on Game Over.
Passports do not apply to rewards gained in the Tower.
Anima Sync does not apply in the Tower.
Anima Spheres give characters one plate of iron stance per sphere.
When all party members are KO'd, the next party resumes battle with the enemy HP as it was.

'Best Heroes'

[

]

Best Heroes is a variation of the Tower that opens for limited intervals. Unlike the standard Tower of Ancient Progenitors and the All-Out Battle Tower, only a single party of four Awakened Characters can be chosen to participate. Anima Spheres are not used. The goal is to accumulate a high score within a time limit of one minute. This time limit can subsequently be increased based on how many enemies have been defeated in previous attempts. Points earned determine Rank, which determines the rewards received.

Participation Conditions

[

]

In order to participate in Best Heroes you must:

Reach floor 60 of the standard Tower for the month.
Have at least one Awakened Character.

Scoring

[

]

Points are accumulated primarily by defeating enemies, though bonus points can be earned by accumulating a high hit count. The latter, in addition to standard Arte combos, can be boosted by chaining Mirrage Artes when the OverSmash! button is available.

Increasing Time Limit

[

]

The time limit initially starts at 1:00, but can be increased by the number of enemies defeated, up to a maximum of 2:00. Time limit is also passively increased by how many days you participate, though the increase is minimal.

Ranking

[

]

A player's Rank is determined by their score. The following table lists the necessary score for each rank:

| Rank | Points Required |
| --- | --- |
| D | 0~999 |
| C | 1000~1999 |
| B | 2000~3999 |
| A | 4000~6999 |
| S | 7000+ |

Rewards

[

]

A player's highest score and the associated Rank for that score determines the Rank Rewards, which are distributed at the end of the participation period. In addition to this, individual rounds award the player Books of Eternity based on the number of enemies defeated. Unlike the All-Out Tower, which has its own books and exchange section, books earned here can be used in the standard Tower exchange.

Book Rewards
Enemies Defeated
Books Earned
1~10
1
11~20
5
21~30
10
31~40
15
41~50
20
51~60
25
61~70
50
71+
100

※ Books are earned with each attempt, whereas Rank Rewards are only earned once.

Rank Rewards
Rank
Rewards Earned

D

File:-item game- Burst Memoria.png Burst Memoria x1


 Diamond x20
 Book of Eternity x1000
File:-currency game- Carnival Ticket.png Carnival Ticket x4
 Spirro Jewel x5
File:-currency game- Burst Memoria Ticket G.png Burst Memoria Ticket G x1

C

File:-item game- Burst Memoria.png Burst Memoria x1


 Diamond x40
 Book of Eternity x2500
File:-currency game- Carnival Ticket.png Carnival Ticket x8
 Spirro Jewel x10
File:-currency game- Burst Memoria Ticket G.png Burst Memoria Ticket G x2

B

File:-item game- Burst Memoria.png Burst Memoria x1


 Diamond x60
 Book of Eternity x5000
File:-currency game- Carnival Ticket.png Carnival Ticket x12
 Spirro Jewel x15
File:-currency game- Burst Memoria Ticket G.png Burst Memoria Ticket G x3

A

File:-item game- Burst Memoria.png Burst Memoria x1


 Diamond x80
 Book of Eternity x10000
File:-currency game- Carnival Ticket.png Carnival Ticket x16
 Spirro Jewel x30
File:-currency game- Burst Memoria Ticket G.png Burst Memoria Ticket G x4

S

File:-item game- Burst Memoria.png Burst Memoria x2


 Diamond x100
 Book of Eternity x20000
File:-currency game- Carnival Ticket.png Carnival Ticket x20
 Spirro Jewel x50
File:-currency game- Burst Memoria Ticket G.png Burst Memoria Ticket G x5




References

[

]