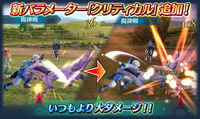 When an ally attack hits, there is a low probability that it may land as a Critical. Equipping a Spirit Gear will increase your Critical Rate. The critical determination happens once per Arte, per enemy. Enemies under Status Effects are twice as likely to be hit with a critical, and the rate changes depending on the enemy.

Critical Rage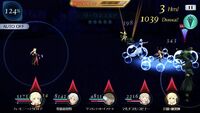 Once a Critical Hit has landed, for three seconds the party enters Critical Rage status. If a Critical Hit occurs again within those three seconds, the timer resets, and the Critical Rage Gauge gains another bar, further increasing the boost of power. The Gauge maxes out at four bars, but can be maintained with more Critical Hits. All ally attacks, excluding Mirrage Artes, have:
Attack Power +50% for every level of Critical Rage
Negates enemy defense
Negates enemy stagger resistance, making enemies easy to stagger
Doubles heal arte effects
Using a Mirrage Arte while the Critical Gauge is active will boost the Mirrage Ratio gained, instead of the above effects, as well as cancel the gauge out.
Probability
In addition to a character's own Critical Rate, which vary from one to another, Artes can affect the probability of a critical. The Critical Value shown on the status page is not a percentage, and a value of "1" does not indicate a 1% chance of critical occurring.
Artes with high Critical Rate:
Those with few hits, that do not have Iron Stance breaking
High CC cost artes
Artes with low Critical Rate:
Master Artes
Artes with invincible frames
Artes with status effects, such as poison or raising the user's Physical Attack.
HP absorption artes
Character Stats
Stats are listed before being boosted by Awakening and Gallery Boosts.
To sort by another category, click the arrows above the chart.
The values are sorted from lowest to highest by default.
Character
Icon
Anima
Defense
Lv 1
Lv 50
Lv 60
Lv 70
Source

Claw

Green

Balanced

Tales of Vesperia

Dark Kanonno

Blue

Balanced

Tales of the World: Radiant Mythology 2

Fang

Violet

Balanced

Tales of Symphonia

Roar

Blue

Balanced

Tales of Xillia

Rinwell

Violet

Arte

1.88

2.81

3.75

Tales of Arise

Law

Violet

Physical

1.25

1.87

2.49

Tales of Arise

Cress (Battle Spear)

Yellow

Physical

Tales of Phantasia

Teresa

Brown

Arte

Tales of Berseria

Gaius (Supreme King)

Blue

Physical

Tales of Xillia 2

Phillip

All Type

Arte

Tales of the Rays

Yggdrasill

Violet

Balanced

Tales of Symphonia

Miktran

Red

Balanced

1.25

1.87

Tales of Destiny

Dhaos (Final Form)

Yellow

Specialized Physical

Tales of Phantasia

Ivar

Blue

Physical

2.4

Tales of Xillia 2

Heldalf

Brown

Physical

Tales of Zestiria

Mint

Yellow

Balanced

0.16

0.32

0.47

0.63

Tales of Phantasia

Lithia

Red

Arte

0.32

0.65

0.97

1.29

Tales of Hearts R

Asuna

All Type

Balanced

0.33

0.66

0.99

1.32

Sword Art Online: Memory Defrag

Ion

Yellow

Specialized Arte

0.33

0.66

0.99

1.32

Tales of the Abyss

Martel

Violet

Arte

0.34

0.68

1.01

1.35

Tales of Symphonia

Freya

All Type

Physical

0.38

0.75

1.13

1.50

Valkyrie Anatomia: The Origin

Velvet

Brown

Physical

0.40

0.80

1.19

1.59

Tales of Berseria

Sorey

Brown

Physical

0.40

0.80

1.19

1.59

Tales of Zestiria

Alisha

Brown

Physical

0.40

0.80

1.19

1.59

Tales of Zestiria

Yuri

Green

Physical

0.40

0.80

1.19

1.59

Tales of Vesperia

Asbel

Violet

Balanced

0.42

0.84

1.26

1.68

Tales of Graces f

Mithos

Violet

Balanced

0.44

0.89

1.33

1.77

Tales of Symphonia

Judith

Green

Balanced

0.44

0.87

1.31

1.74

Tales of Vesperia

Rita

Green

Arte

0.45

0.90

1.35

1.80

Tales of Vesperia

Victor

Blue

Physical

0.47

0.95

1.42

1.89

Tales of Xillia 2

Ais

All Type

Physical

0.47

0.95

1.42

1.89

DanMachi

Ix

All Type

Balanced

0.47

0.95

1.42

1.89

Tales of the Rays

Ludger

Blue

Balanced

0.47

0.95

1.42

1.89

Tales of Xillia 2

Yami

All Type

Physical

0.50

1.01

1.51

2.01

Black Clover

Claude

All Type

Physical

0.50

1.01

1.51

2.01

Star Ocean: Anamnesis

Haseo

All Type

Physical

0.50

1.01

1.51

2.01

.hack//G.U.

Kagura

All Type

Physical

0.50

1.01

1.51

2.01

Gintama

Alisa

All Type

Balanced

0.50

1.01

1.51

2.01

God Eater Resonant Ops

Colette

Violet

Arte

0.52

1.04

1.55

2.07

Tales of Symphonia

Gaius

Blue

Physical

0.52

1.04

1.55

2.07

Tales of Xillia 2

Rimul

Red

Physical

0.52

1.04

1.55

2.07

Tales of Destiny 2

Lenneth F

All Type

Physical

0.53

1.05

1.58

2.10

Valkyrie Anatomia: The Origin

Kongwai

Brown

Balanced

0.53

1.07

1.60

2.13

Tales of Innocence R

Sougo

All Type

Physical

0.53

1.07

1.60

2.13

Gintama

Rassius

Green

Physical

0.53

1.07

1.60

2.13

Tales of Eternia

QQ

Brown

Physical

0.53

1.07

1.60

2.13

Tales of Innocence R

Milla

Blue

Balanced

0.53

1.05

1.58

2.10

Tales of Xillia 2

Dio

Yellow

Balanced

0.53

1.07

1.60

2.13

Tales of Phantasia: Narikiri Dungeon X

Bardo

All Type

Balanced

0.53

1.05

1.58

2.10

Tales of the Rays

Asch

Yellow

Physical

0.54

1.08

1.62

2.16

Tales of the Abyss

Kocis

All Type

Balanced

0.55

1.10

1.64

2.19

Tales of the Rays

Spada

Brown

Balanced

0.56

1.13

1.69

2.25

Tales of Innocence R

Emil

Violet

Physical

0.56

1.13

1.69

2.25

Tales of Symphonia: Dawn of the New World

Artorius

Brown

Balanced

0.56

1.13

1.69

2.25

Tales of Berseria

Julius

Blue

Physical

0.56

1.11

1.67

2.22

Tales of Xillia 2

Saleh

Yellow

Balanced

0.56

1.13

1.69

2.25

Tales of Rebirth

Legretta

Yellow

Balanced

0.56

1.13

1.69

2.25

Tales of the Abyss

Charlotte

All Type

Balanced

0.56

1.13

1.69

2.25

Black Clover

Chalcedony

Red

Balanced

0.56

1.13

1.69

2.25

Tales of Hearts R

Uzuki

All Type

Balanced

0.56

1.13

1.69

2.25

THE iDOLM@STER Cinderella Girls

Guy

Yellow

Balanced

0.56

1.13

1.69

2.25

Tales of the Abyss

Rena

All Type

Balanced

0.58

1.16

1.73

2.31

Star Ocean: Anamnesis

Toushirou

All Type

Physical

0.58

1.16

1.73

2.31

Gintama

Stahn

Red

Physical

0.58

1.16

1.73

2.31

Tales of Destiny

Philine

All Type

Balanced

0.59

1.17

1.76

2.34

God Eater Resonant Ops

Mell

Yellow

Arte

0.60

1.20

1.80

2.40

Tales of Phantasia: Narikiri Dungeon X

Nazar

All Type

Balanced

0.60

1.20

1.80

2.40

Tales of the Rays

Duke

Green

Balanced

0.60

1.20

1.80

2.40

Tales of Vesperia

Repede

Green

Physical

0.61

1.22

1.82

2.43

Tales of Vesperia

Gourry

All Type

Physical

0.62

1.25

1.87

2.49

Slayers

Kirito

All Type

Physical

0.62

1.25

1.87

2.49

Sword Art Online: Memory Defrag

Gintoki

All Type

Physical

0.62

1.25

1.87

2.49

Gintama

Van

Yellow

Balanced

0.62

1.25

1.87

2.49

Tales of the Abyss

Cheria

Violet

Arte

0.62

1.25

1.87

2.49

Tales of Graces f

Yuan

Violet

Balanced

0.62

1.25

1.87

2.49

Tales of Symphonia

Takasugi

All Type

Physical

0.62

1.25

1.87

2.49

Gintama

Lloyd

Violet

Physical

0.62

1.25

1.87

2.49

Tales of Symphonia

Elize

Blue

Arte

0.62

1.25

1.87

2.49

Tales of Xillia

Rose

Brown

Physical

0.63

1.26

1.89

2.52

Tales of Zestiria

Rokurou

Brown

Physical

0.63

1.26

1.89

2.52

Tales of Berseria

Milla Maxwell

Blue

Balanced

0.64

1.28

1.91

2.55

Tales of Xillia

Kohaku

Red

Balanced

0.65

1.31

1.96

2.61

Tales of Hearts R

Estelle

Green

Balanced

0.65

1.29

1.94

2.58

Tales of Vesperia

Jude

Blue

Balanced

0.65

1.29

1.94

2.58

Tales of Xillia

Katsura

All Type

Balanced

0.66

1.32

1.98

2.64

Gintama

Eizen

Brown

Balanced

0.66

1.32

1.98

2.64

Tales of Berseria

Meredy

Green

Arte

0.67

1.34

2.00

2.67

Tales of Eternia

Claire Victorious

All Type

Balanced

0.68

1.35

2.03

2.70

God Eater Resonant Ops

Luke

Yellow

Physical

0.68

1.35

2.03

2.70

Tales of the Abyss

Sophie

Violet

Physical

0.68

1.37

2.05

2.73

Tales of Graces f

Mikleo

Brown

Arte

0.69

1.38

2.07

2.76

Tales of Zestiria

Leia

Blue

Balanced

0.69

1.38

2.07

2.76

Tales of Xillia

Gall

Red

Balanced

0.69

1.38

2.07

2.76

Tales of Hearts R

Natalia

Yellow

Balanced

0.69

1.38

2.07

2.76

Tales of the Abyss

Yuno

All Type

Arte

0.70

2.09

2.79

Black Clover

Chloe

Blue

Balanced

0.71

1.43

2.14

2.85

Tales of Legendia

Tear

Yellow

Arte

0.71

1.41

2.12

2.82

Tales of the Abyss

Shirley

Blue

Arte

0.71

1.41

2.12

2.82

Tales of Legendia

Sync

Yellow

Balanced

0.71

1.41

2.12

2.82

Tales of the Abyss

Cress

Yellow

Physical

0.72

1.44

2.16

2.88

Tales of Phantasia

Edna

Brown

Balanced

0.73

1.46

2.18

2.91

Tales of Zestiria

Raven

Green

Balanced

0.73

1.46

2.18

2.91

Tales of Vesperia

Laphicet

Brown

Arte

0.73

1.46

2.18

2.91

Tales of Berseria

Eleanor

Brown

Balanced

0.73

1.46

2.18

2.91

Tales of Berseria

Schwann

Green

Physical

0.73

1.46

2.18

2.91

Tales of Vesperia

Mileena

All Type

Arte

0.73

1.46

2.18

2.91

Tales of the Rays

Anzu

All Type

Balanced

0.73

1.46

2.18

2.91

THE iDOLM@STER Cinderella Girls

Shigure

Brown

Physical

0.74

1.47

2.21

2.94

Tales of Berseria

Kyle

Red

Physical

0.75

1.50

2.25

3.00

Tales of Destiny 2

Droite

Green

Balanced

0.75

1.50

2.25

3.00

Tales of Vesperia

Chelsea

Red

Balanced

0.75

1.50

2.25

3.00

Tales of Destiny

Gauche

Green

Balanced

0.75

1.50

2.25

3.00

Tales of Vesperia

Jay

Blue

Physical

0.75

1.50

2.25

3.00

Tales of Legendia

Kanonno Grassvalley

Blue

Balanced

0.75

1.50

2.25

3.00

Tales of the World: Radiant Mythology 3

Kanonno Earhart

Blue

Balanced

0.75

1.50

2.25

3.00

Tales of the World: Radiant Mythology 2

Ranko

All Type

Balanced

0.75

1.50

2.25

3.00

THE iDOLM@STER Cinderella Girls

Alexei

Green

Balanced

0.75

1.50

2.25

3.00

Tales of Vesperia

Alice

Violet

Arte

0.75

1.50

2.25

3.00

Tales of Symphonia: Dawn of the New World

Rondoline

Yellow

Balanced

0.75

1.50

2.25

3.00

Tales of Phantasia: Narikiri Dungeon X

Haruka

All Type

Balanced

0.75

1.50

2.25

3.00

THE iDOLM@STER Stella Stage

Arche

Yellow

Arte

0.77

1.55

2.32

3.09

Tales of Phantasia

Anise

Yellow

Balanced

0.77

1.55

2.32

3.09

Tales of the Abyss

Karia N

All Type

Balanced

0.77

1.55

2.32

3.09

Tales of the Rays

Ange

Brown

Physical

0.77

1.55

2.32

3.09

Tales of Innocence R

Amelia

All Type

Balanced

0.78

1.56

2.34

3.12

Slayers

Zelgadiss

All Type

Balanced

0.78

1.56

2.34

3.12

Slayers

Sol

All Type

Physical

0.78

1.56

2.34

3.12

Guilty Gear Strive

Barnaby

All Type

Balanced

0.78

1.56

2.34

3.12

Tiger and Bunny

Senel

Blue

Balanced

0.78

1.56

2.34

3.12

Tales of Legendia

Mercuria

All Type

Arte

0.79

1.58

1.58

2.10

Tales of the Rays

Allen

Red

Arte

0.79

1.58

2.36

3.15

Tales of Link

Celsius

Green

Balanced

0.80

1.61

2.41

3.21

Tales of Eternia

Sara

Red

Balanced

0.80

1.61

2.41

3.21

Tales of Link

Kana

Red

Balanced

0.80

1.61

2.41

3.21

Tales of Link

Reid

Green

Balanced

0.81

1.62

2.43

3.24

Tales of Eternia

Ruca

Brown

Physical

0.81

1.62

2.43

3.24

Tales of Innocence R

Hubert

Violet

Balanced

0.83

1.65

2.48

3.30

Tales of Graces f

Walter

Blue

Balanced

0.83

1.65

2.48

3.30

Tales of Legendia

Caius

Green

Balanced

0.83

1.67

2.50

3.33

Tales of the Tempest

Creed

Red

Balanced

0.83

1.67

2.50

3.33

Tales of Hearts R

Richter

Violet

Balanced

0.85

1.70

2.54

3.39

Tales of Symphonia: Dawn of the New World

Little Queen

Violet

Balanced

0.85

1.70

2.54

3.39

Tales of Graces f

Shionne

Violet

Balanced

0.85

1.70

Tales of Arise

Kirari

All Type

Arte

0.85

1.70

2.54

3.39

THE iDOLM@STER Cinderella Girls

Richard

Violet

Balanced

0.85

1.70

2.54

3.39

Tales of Graces f

Kunzite

Red

Physical

0.85

1.70

2.54

3.39

Tales of Hearts R

Arietta

Yellow

Arte

0.85

1.70

2.54

3.39

Tales of the Abyss

Pasca Kanonno

Blue

Balanced

0.85

1.70

2.54

3.39

Tales of the World: Radiant Mythology

Flynn

Green

Physical

0.85

1.70

2.54

3.39

Tales of Vesperia

Suzu

Yellow

Physical

0.86

1.71

2.57

3.42

Tales of Phantasia

Will

Blue

Physical

0.86

1.73

2.59

3.45

Tales of Legendia

Kor

Red

Physical

0.86

1.71

2.57

3.42

Tales of Hearts R

Karyl

Red

Balanced

0.86

1.71

2.57

3.42

Tales of Destiny

Genis

Violet

Arte

0.86

1.71

2.57

3.42

Tales of Symphonia

Tilkis

Green

Physical

0.86

1.71

2.57

3.42

Tales of the Tempest

Jade

Yellow

Arte

0.86

1.73

2.59

3.45

Tales of the Abyss

Regal

Violet

Physical

0.86

1.71

2.57

3.42

Tales of Symphonia

Hermana

Brown

Physical

0.86

1.71

2.57

3.42

Tales of Innocence R

Phoenix

Brown

Physical

0.87

1.74

2.61

3.48

Tales of Zestiria

Agria

Blue

Physical

0.87

1.74

2.61

3.48

Tales of Xillia

Zelos

Violet

Balanced

0.88

1.76

2.63

3.51

Tales of Symphonia

Pascal

Violet

Physical

0.88

1.76

2.63

3.51

Tales of Graces f

Yeager

Green

Balanced

0.88

1.76

2.63

3.51

Tales of Vesperia

Reala

Red

Arte

0.88

1.76

2.63

3.51

Tales of Destiny 2

Marta

Violet

Balanced

0.88

1.76

2.63

3.51

Tales of Symphonia: Dawn of the New World

Farah

Green

Arte

0.89

1.78

2.68

3.57

Tales of Eternia

Symonne

Brown

Arte

0.90

1.80

2.70

3.60

Tales of Zestiria

Asta

All Type

Balanced

0.90

1.80

2.70

3.60

Black Clover

Barbatos

Red

Physical

0.90

1.80

2.70

3.60

Tales of Destiny 2

Magilou

Brown

Balanced

0.90

1.80

2.70

3.60

Tales of Berseria

Peony

Yellow

Balanced

0.90

1.80

2.70

3.60

Tales of the Abyss

Nike

All Type

Physical

0.91

1.82

2.72

Magical Circle Guru Guru

Patty

Green

Balanced

0.92

1.83

2.75

3.66

Tales of Vesperia

Rutee

Red

Arte

0.92

1.83

2.75

3.66

Tales of Destiny

Chaltier

Red

Balanced

0.94

1.88

2.81

3.75

Tales of Destiny 2

Alphen

Violet

Physical

0.94

1.88

Tales of Arise

Claus

Yellow

Arte

0.94

1.88

2.81

3.75

Tales of Phantasia

Dhaos

Yellow

Specialized Physical

0.94

1.88

2.81

3.75

Tales of Phantasia

Atwight

Red

Arte

0.94

1.88

2.81

3.75

Tales of Destiny 2

Nanaly

Red

Arte

0.94

1.88

2.81

3.75

Tales of Destiny 2

Lazaris

Blue

Arte

0.94

1.88

2.81

3.75

Tales of the World: Radiant Mythology 3

Hilda

Yellow

Arte

0.94

1.88

2.81

3.75

Tales of Rebirth

Ramlethal

All Type

Balanced

0.94

1.88

2.81

3.75

Guilty Gear Strive

Eugene

Yellow

Physical

0.94

1.88

2.81

3.75

Tales of Rebirth

Malik

Violet

Balanced

0.95

1.91

2.86

3.81

Tales of Graces f

Judas

Red

Arte

0.96

1.92

2.88

3.84

Tales of Destiny 2

Wild Tiger

All Type

Physical

0.97

1.94

2.90

3.87

Tiger and Bunny

Zaveid

Brown

Balanced

0.97

1.94

2.90

3.87

Tales of Zestiria

Ricardo

Brown

Arte

0.97

1.94

2.90

3.87

Tales of Innocence R

Dohalim

Violet

Balanced

0.98

1.97

2.95

3.93

Tales of Arise

Shizel

Green

Arte

0.98

1.95

2.93

3.90

Tales of Eternia

Couleur

Yellow

Balanced

0.98

1.95

2.93

Tales of Phantasia: Narikiri Dungeon X

Lina

All Type

Arte

0.98

1.95

2.93

3.90

Slayers

Keele

Green

Physical

0.98

1.97

2.95

3.93

Tales of Eternia

Zephyr

Red

Balanced

0.98

1.95

2.93

3.90

Tales of Link

Muzét

Blue

Arte

0.98

1.95

2.93

3.90

Tales of Xillia 2

Atoli

All Type

Arte

1.00

2.00

2.99

3.99

.hack//G.U.

Forest

Green

Physical

1.00

2.00

2.99

3.99

Tales of the Tempest

Ines

Red

Phyical

1.00

2.00

2.99

3.99

Tales of Hearts R

Morrison

Yellow

Arte

1.01

2.03

3.04

4.05

Tales of Phantasia

Grune

Blue

Arte

1.01

2.01

3.02

4.02

Tales of Legendia

Sheena

Violet

Balanced

1.01

2.03

3.04

4.05

Tales of Symphonia

Kratos

Violet

Balanced

1.01

2.01

3.02

4.02

Tales of Symphonia

Dezel

Brown

Balanced

1.01

2.03

3.04

4.05

Tales of Zestiria

Kukuri

All Type

Arte

1.01

2.03

3.04

Magical Circle Guru Guru

Loni

Red

Physical

1.04

2.09

3.13

4.17

Tales of Destiny 2

Moses

Blue

Balanced

1.04

2.07

Tales of Legendia

Lippy

Red

Arte

1.05

2.10

3.15

4.20

Tales of Link

Max

Green

Balanced

1.07

2.13

3.20

4.26

Tales of Eternia

Dymlos

Red

Physical

1.07

2.13

3.20

4.26

Tales of Destiny 2

Illia

Brown

Balanced

1.07

2.15

3.22

4.29

Tales of Innocence R

Lilith

Red

Balanced

1.09

2.18

3.26

4.35

Tales of Destiny

Bell

All Type

Balanced

1.09

2.18

3.26

4.35

DanMachi

Chat

Green

Physical

1.10

2.19

3.29

4.38

Tales of Eternia

Kisara

Violet

Physical

1.10

2.19

3.29

4.38

Tales of Arise

Hisui

Red

Balanced

1.10

2.19

3.29

4.38

Tales of Hearts R

Alvin

Blue

Physical

1.13

2.25

3.38

4.50

Tales of Xillia

Karol

Green

Physical

1.13

2.25

3.38

4.50

Tales of Vesperia

Bruiser Khang

Red

Physical

1.13

2.25

3.38

4.50

Tales of Destiny

Leon

Red

Arte

1.13

2.25

3.38

4.50

Tales of Destiny

Garr

Red

Physical

1.13

2.25

3.38

4.50

Tales of Destiny

Norma

Blue

Arte

1.13

2.25

3.38

4.50

Tales of Legendia

Lailah

Brown

Arte

1.15

2.30

3.44

4.59

Tales of Zestiria

Chester

Yellow

Balanced

1.16

2.33

3.49

4.65

Tales of Phantasia

Veigue

Yellow

Physical

1.16

2.31

3.47

4.62

Tales of Rebirth

Harold

Red

Arte

1.17

2.34

3.51

4.68

Tales of Destiny 2

Beryl

Red

Arte

1.17

2.34

3.51

4.68

Tales of Hearts R

Rubia

Green

Arte

1.17

2.34

3.51

4.68

Tales of the Tempest

Tytree

Yellow

Balanced

1.18

2.36

3.53

4.71

Tales of Rebirth

Dark Turtlez

Brown

Physical

1.20

2.40

3.60

4.80

Tales of Berseria

Mary

Red

Physical

1.22

2.45

3.67

4.89

Tales of Destiny

Mao

Yellow

Balanced

1.23

2.46

3.69

4.92

Tales of Rebirth

Presea

Violet

Physical

1.25

2.51

3.76

5.01

Tales of Symphonia

Arria

Green

Arte

1.25

2.51

3.76

5.01

Tales of the Tempest

Decus

Violet

Physical

1.30

2.60

3.89

5.19

Tales of Symphonia: Dawn of the New World

Philia

Red

Arte

1.31

2.63

3.94

5.25

Tales of Destiny

Dist

Yellow

Balanced

1.31

2.63

3.94

5.25

Tales of the Abyss

Raine

Violet

Arte

1.36

2.72

4.07

5.43

Tales of Symphonia

Lukius

Green

Arte

1.41

2.82

4.23

Tales of the Tempest

Rowen

Blue

Arte

1.42

2.84

4.25

5.67

Tales of Xillia

Marcus

All Type

Physical

1.46

2.91

4.37

5.82

Tales of the Rays

Elrane

Red

Physical

1.48

2.96

4.43

5.91

Tales of Destiny 2

Annie

Yellow

Arte

1.49

2.97

4.46

5.94

Tales of Rebirth
References